Over 70 Years
Of Excellence
Established in 1948, take a look at who we are and what we do. You will find
that we are committed to excellence and customer satisfaction, with a
focus on continuous improvement.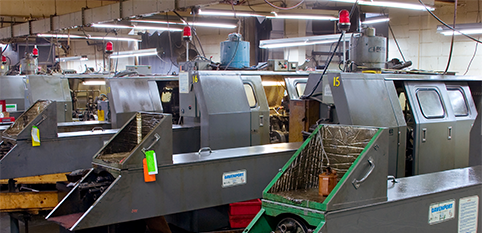 Multi-Spindle Machining
---
K & Y has a variety of multi-spindle automatic screw machines in two facilities in Canton, Michigan. Our larger capacity automatic screw machines (Euroturn and Acme Gridley) give K & Y capacities up to 42mm which is 1.654". Our Davenport machinery yields capacities up to .875".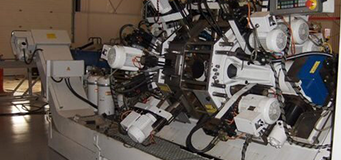 Transfer Machining
---
It is K & Y's goal to be ahead of the market and our investment in transfer machinery is evidence of that philosophy.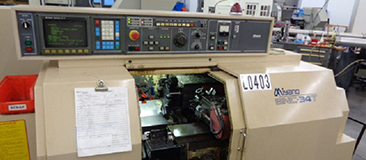 CNC Machining
---
K & Y has invested into CNC, single, and multi-spindle machinery. Our single-spindle machinery includes Miyano CNC Lathe. Our vertical machinery includes Haas vertical machining center and our multi-spindle machinery includes Euroturns automatic screw machines with CNC Slides.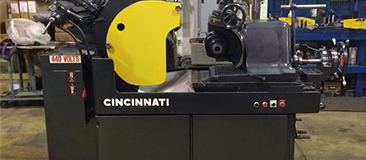 Production Grinding
---
Our production grinding department has Cincinnati Centerless Grinders in several capacities at both locations. K & Y routinely grinds millions of parts per year achieving the level of tolerance required.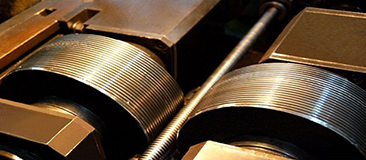 Secondary Operations
---
K & Y is proud that all machining operations can be achieved in house. This reliable approach is a great time saver. Our secondary operations include broaching, thread rolling, grinding and vertical machining.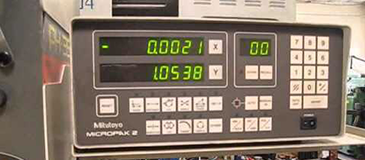 Inspection
---
K & Y has stayed ahead of the curve by investing into equipment that certifies 100% parts to print. This is achieved through an automated system utilizing cameras to measure the critical characteristics of the parts.
Cleaning Technology
To help keep parts-per-million rating near zero and metal chip contaminants to a minimum, K & Y uses the latest in cleaning technology. Our cleaning department utilizes patented Bowden Turbo Wash systems and a Better Engineering automatic parts washer. Using this equipment helps ensure that our customers receive the cleanest parts achievable through a production process.

Precision
We maintain strict tolerances during high volume production. We manufacture tens of millions of parts a year with tolerances less than .0002".

Reliability
As a Tier 1 supplier, K & Y knows what late deliveries can mean for customers. This is why on-time delivery is one of our top priorities. We collect our data for industry benchmarking purposes, with our ultimate goal being 100% on-time delivery. As a Tier 1 supplier (beginning in 1996), K & Y has not had one late delivery.

Quality Assurance
We employ the latest technology in all steps of the manufacturing process to maintain the highest level of quality. Plant floor data collection allows our quality department to verify that production processes are in control.

ISO:9001
Certified QMS
Through dedicated teamwork, K & Y has established a quality system that is ISO:9001 certified QMS through American System Registrar. K & Y is certified QMS. Click here to view our ISO:9001 Certificate
Equipment List
Multiple Spindle
Davenport (Capacity to 7/8″)

Model B 9/16″ Standard
Model B 9/16″ Standard Extended Bed
Model B 3/4″ Oversize
Model B 3/4″ Oversize Extended Bed
Model B 3/4″ Oversize Chucker

Acme-Gridley 6 Spindle 1 1/4″ RA6
Euroturn Model 6-25
Euroturn Model 6-32 (Capacity to 1 1/4″)
Euroturn Model 8-42
Single Spindle
Brown & Sharpe

#0 Brown & Sharpe
#00 Brown & Sharpe
#2 Brown & Sharpe
#3 Brown & Sharpe
Rotary Transfer
BTB BB524 TRO 10S-10U ISO 30 CN-EL
Hydromat Model VM16-34
CNC
Miyano Model BNC 34-T

Capacity 1 3/8″ Bar Fed
Capacity 5″ Chucker

Miyano Model BNC-34T (3x)
Miyano Model BNC-42C5
Miyano Model BND-34S2
Miyano Model BND 42
Secondary Operations
Ty-Miles MB 6-36-90 Production Broach
Ty-Miles MB 6-36-120 Production Broach
McClean FP-27 Computerized Lathe
Feeler Speed Lathe
Kinefac MC5-F Thread Roller
Dumore Cross-Drilling Machine
Hardinge Lathe DSM-59
Sunstrand Horizontal Production Mill
Sweco 4 Cubic Yard Vibratory Finishing Machine
Grinding
#2 Cincinnati Centerless
#4 Cincinnati Centerless
OM Cincinnati Centerless
OMV Cincinnati Centerless
Cleaning
Fourway Automated Parts Washer
Bowden CRB-4-160 Automated
Aqueous Parts Washer with Ultra-Sonic Cleaning
Bowden CRB-3-160 Aqueous Parts Washer
Cyclojet Model 3 Automated Aqueous Parts Washer
Inspection
MAHR Surf CD-120 Contour Measuring Machine
Automated Inspection Devices
Gage Master Series 20 Optical Comparator
Mitutoyo PH-3500 Optical Comparator
Model 6500 Signature Analysis Thread Inspector
Anstat Software with SPC Capability
GenNet Data Collection on Plant Floor with Real-Time Data